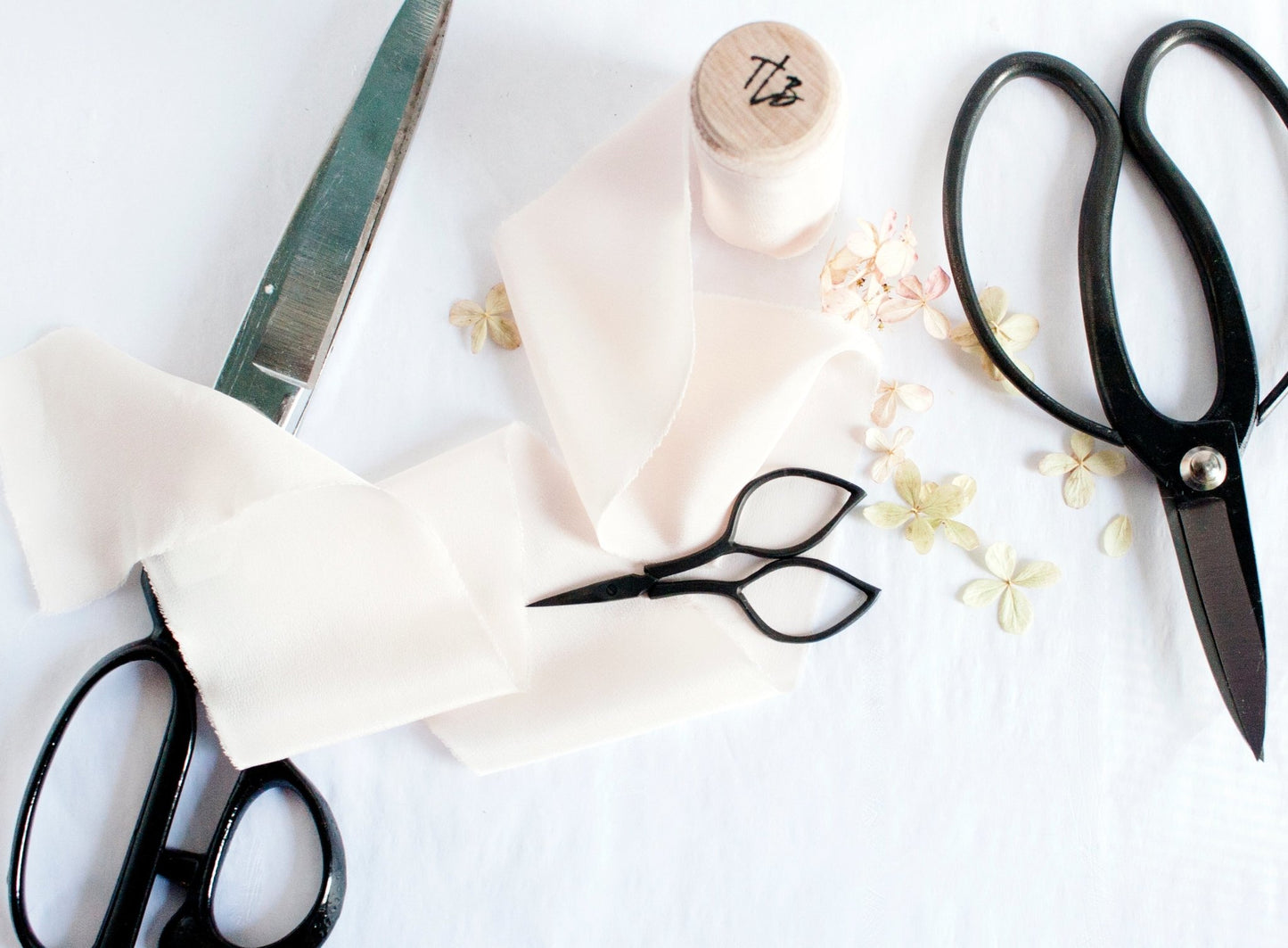 Tips and Tricks for Working with Naturally Dyed Silk Ribbon
The Lesser Bear gives tips and tricks for keeping your ribbon looking amazing. This articles covers: cutting ribbon, ironing, or crinkling, loose threads, and why you should keep your ribbon dry. All of these tips will help you feel more confident while working with The Lesser Bear silk ribbon for your wedding or event.
How do I work with silk ribbon?
If you are like me, you grew up thinking that silk was rare, a luxury, and really difficult to maintain. Maybe, like many of my clients, you are nervous about cutting into your new spool of ribbon. Or, maybe you are as picky as me about keeping the wrinkles out of your ribbon.
If you are getting married, using ribbon for decorating, or are a vendor, this article is for you. I'll share some of my favorite tricks and tips for working with silk ribbon and keeping it looking great for your event or photoshoot.
Yes, silk is a luxury item and it takes some special care, but it can also be a strong and beautiful fabric, when treated with care.
Florals: Old Slate Farm | Photography: Kylie Bricker Photo | Venue: Clary Gardens | Gown: Universal Bridal and Prom | Ring: Dean's Jewelry 
How to cut ribbon
One question that I get a lot, is how best to cut ribbon. Believe me, I have tried no less than 25 types of scissors, and I cut a LOT of ribbon. 
My first suggestion is to find a very sharp pair of scissors. Second, use a pair of scissors that are long enough to cut all the way across the ribbon in one snip. There is nothing worse that a dull or wiggly cut across a ribbon, but a good pair of scissors goes a long way.
My favorite scissors by far, and the ones that my family knows not to borrow from my studio, are Fiskars Razor Edge scissors. They make a really nice smooth cut, and mine are still sharp after a full year and thousands of spools of ribbon.
Help, my ribbon is wrinkled!
Wrinkled or pristinely smooth, your ribbon is going to be gorgeous, it is just a matter of personal preference. Your Lesser Bear Ribbon comes ironed on a custom made wooden spool. But if you reuse your ribbon, or if it has come unspooled, it may have gotten wrinkled.
If you are on a shoot or about to hand a bride her bouquet and you just need a quick fix for getting that ribbon smooth, I highly recommend keeping a flat iron on hand. Set it on a medium heat, and run the ribbon through, and Presto! your ribbon is back to smooth. Just be careful to keep the ribbon moving, so as not to scorch it.
If you are still in your studio, or have more space to work, I would suggest ironing your ribbon on medium heat with a nice heavy iron. Again, be careful not to scorch the ribbon. If you have truly stubborn wrinkles, lightly spritz your ribbon first with plain water, and then iron.
Now, if you like the soft crinkled look of ribbon, simply take that spray bottle, lightly spray the length of your ribbon and give it a gentle scrunch. Then, hang it to air dry. This is particularly nice with silk gauze ribbons, and gauze table runners as well.
What do I do with silk threads on my ribbon?
The Lesser Bear silk ribbon is not only naturally dyed, but it is hand torn, by me. The tearing process may lead to loose threads at the edges of ribbon, often found when unspooling. 
These threads are easy to take care of, gently pull the thread out along the length of the ribbon. Just make sure to check your ankles afterwards, as I often walk around with silk threads stuck to my legs (Ha!).
Care for your ribbons
My last few bits of advise have to do with water and ribbon. Please remember that the ribbons are naturally dyed, and though I wash them prior to spooling, there may be some residual color on the surfaces of the ribbon. As such, please make sure to dry the stems of your bouquet BEFORE adding ribbon. Some florists that I know include a note and a dry cloth for the bride to dry their bouquets, if they have been put in water prior to the ceremony. Also, if you are putting the bouquet back in water, after adding ribbon, please be careful to keep the ribbon out of the water. This is particularly important with the darker shades of ribbon.
While the ribbons can be gently hand washed, changes in pH can lead to changes in the color, so be sure to use a pH neutral soap. Also, avoid the use of those flower food packets, as the chemicals in the powder can effect the color of the ribbon.
Last - just have fun with it! Each person who uses ribbon uses it in their own unique way and it is wonderful to see everyone's style. An upcoming post will give tricks and tips for how to tie silk ribbon onto bouquets.