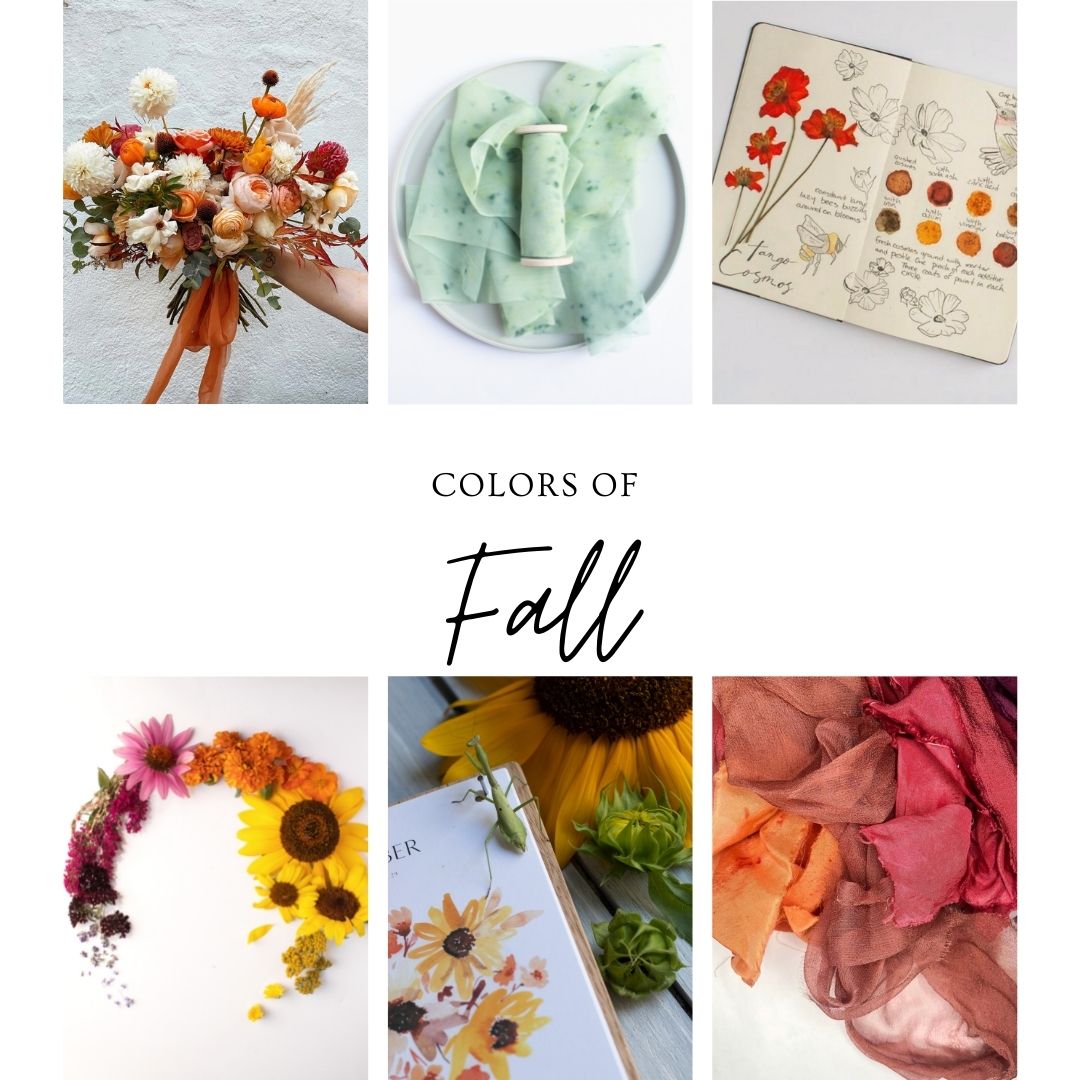 This Week in Ribbon Sept. 3rd - Fall colors and flowers
This week is all about Fall Colors. It started with a longing for the summer heat to break, and now that it is on its way to a more comfortable level, I am starting to get excited about the fall and all the wonderful flowers and plants that are perfect for dyeing with.
I brought out these colors this week and am thinking of some limited edition fall silk ribbon colors. Which are your favorite, and would you use fall inspired colors on your wedding bouquet or invitation?
Newly released! This limited edition
Eco Printed Silk Gauze Ribbon
is now available on the website. It is dyed with fresh indigo leaf, marigolds, and scabies, all grown in my garden this summer.
My favorite dye flower in the summertime is the Tango Cosmos. I got my seed from
Grand Prismatic Seed
. It grows in tall delicate plants bursting with bright orange flowers. The bees buzz away at it all summer making it feel joyful and alive. It also sometimes gets visits from hummingbirds, which is fun as I don't see many of them here in Ohio. This year I planted them in my raised beds, around the Hopi Black Sunflowers, so that there is color blooming from the top of the beds to about 10ft up in the air.
Here is another glimpse of the late summer/early fall dye plants in my garden. Starting with scabiosa, buddleia, indigo, echinacea, marigolds, cosmos, hopi black sunflowers, yarrow and dyer's camomile. 
All of these flowers will be used to make ribbons and paints over the coming year. I have also been having TONS of seeds, with hopes of increasing the size of my dye garden. The extra bonus is that many of these dye flowers are also excellent flowers for pollinators.