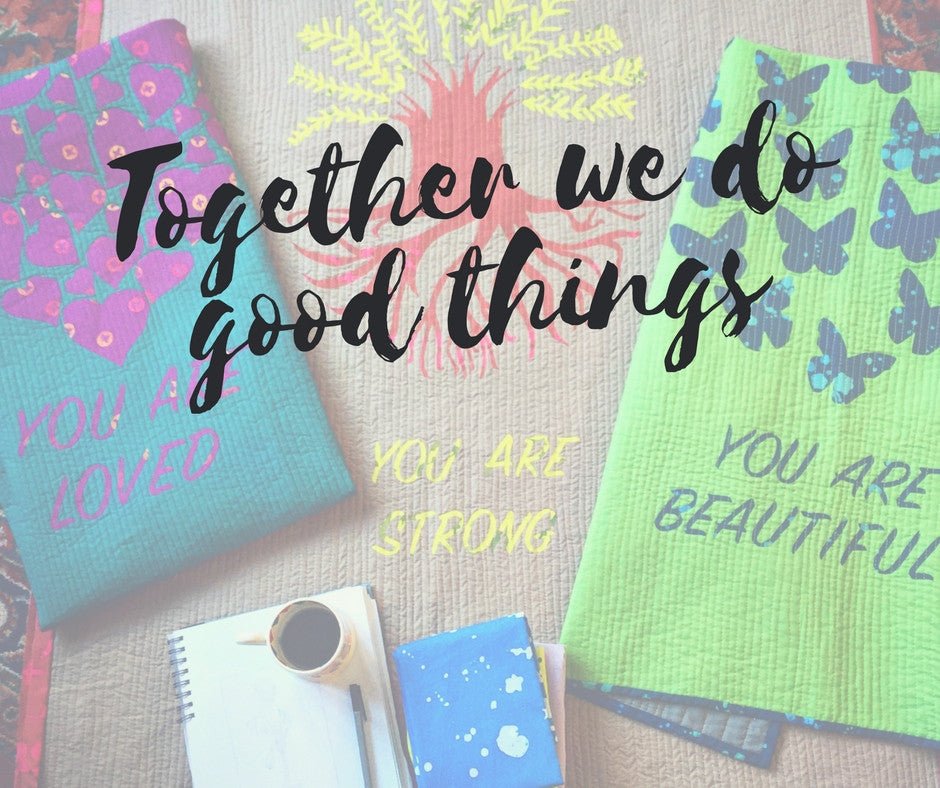 Looking Back: "Take your broken heart, make it into art."
Meryl Streep recently quoted Carrie Fisher as saying, "Take your broken heart, make it into art." - A quote which nicely sums up the reason behind some of my projects in 2016.
I have promised myself that as I build my business, it will always incorporate an element of doing good along with making lovely things.
Looking back on 2016, I am pretty proud of what I was able to do, with your help, while building and changing my business. Here is a quick look:
The first project was about a year ago, when I was heartbroken and inspired by a friend's trip to the Greek Island of Lesvos to volunteer in a refugee camp. I decided to hold an Instagram auction, and with the help of you wonderful people, was able to raise $1,950 which was donated to aid Syrian refugees on the island.
The second project for the year was also to benefit the same refugee camp. I designed and made 4 quilts which were originally destined for a Mother/Child Tent in the camp. However, the situation at the camp changed and the quilts could no longer be used. However, a very kind volunteer brought them to ΜΕΤΑδραση - METAdrasi :
an organization of Civil Society founded in 2010 with the primary aim to cover long-standing gaps in the reception and integration of refugees and migrants in Greece. METAdrasi specializes in the sector of interpretation services and intercultural mediation as well as the protection of the rights of unaccompanied minors and persons entitled to international protection.
I am not sure what happened to the quilts in the end, but I hope they brought someone even the slightest bit of joy. They were made with joyful colors and positive messages as well as super durable stitching incase they were taken on a long and hard journey.
The third project was in response to the North Carolina "Bathroom Bills" - these pins were and are being sold to raise funds for Kaleidoscope Youth Center, who's mission is to:
work in partnership with young people in Central Ohio to create safe and empowering spaces for Lesbian, Gay, Bisexual, Transgender, Queer, Questioning and Ally youth through advocacy, education, support and community engagement.
(photo by Glitteracy)
You can still pick up one of these pins at Swoonful Gifts.
Also this year, I donated a king sized linen quilt to the Cultural Arts Commission in Upper Arlington. It is yet determined how this quilt will be sold to raise funds for UA Arts, but hopefully more details will come soon.
I also sold these UA Centennial pillows at the Upper Arlington Labor Day Arts Festival and a portion of the proceeds was donated to support the Centennial Fund.
Lastly, I held a second sale of quilts, $100 from each sale went to Together Rising, which was raising fund to go towards important aid in Syria. I was able to donate to this cause and will be directly donating the unsold quilts from this project to a local cause.
You should be so proud of what you helped me to this year! I am so thankful for your support and for helping me to do some real good with my work. Thank you!
So, 2017 - what projects should I tackle this year? Let me know what you think.