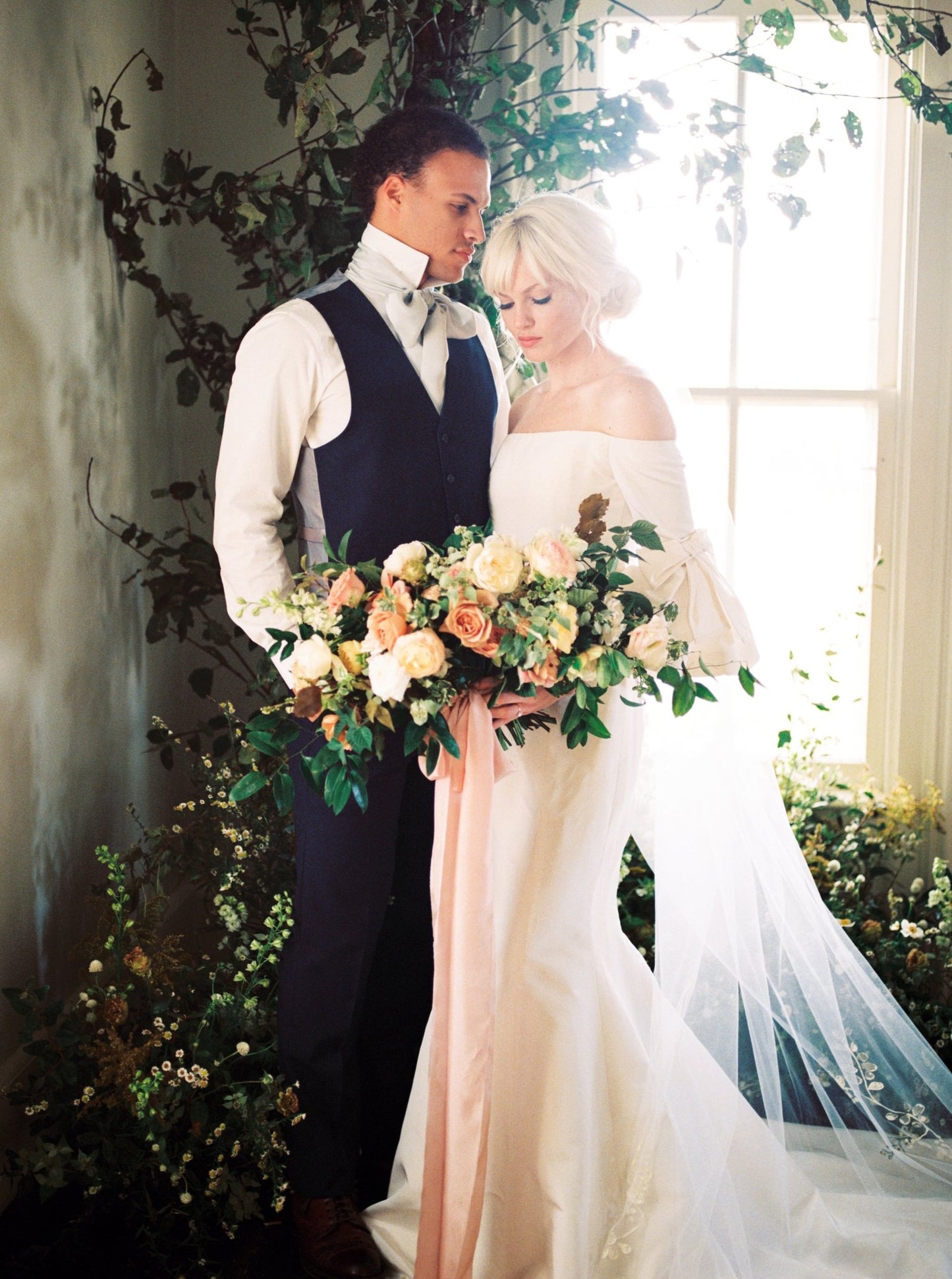 While I have to admit that I haven't seen the musical Hamilton, I am of course aware of how many people absolutely love it. I am also a big fan of Lin-Manuel Miranda, his positivity and the way that he uses his platform to help others are inspiring.
So, when my dear friend Meredith of Auburn and Ivory asked me to be a part of this Hamilton inspired shoot, I couldn't say no. I can't speak more highly of her vision and skills at styling and am lucky to also call her my friend.
I was also lucky to be a part of this amazing team of women who work locally in the wedding industry and are a daily sources of inspiration and support.
For this project I made custom silk ribbons, a silk cravat and velvet ribbons and table runners.
The shoot took place at Old Slate Farm in Katie's beautiful house, which was just the perfect location for it. I fell in love with her dreamy staircase and its original wallpaper. But most amazingly, she created an fabulous floral and greenery installation which seemed to be growing up from the floor boards right up into the ceiling!
State & Arrow  made the incredible bouquet, on which I got to put some wide Blossom ribbon, and the centerpieces on the table. Just a fun note, the chairs are actually from my own dinning room and are the chairs I grew up with.
Of course no shoot would be complete without work from Cheerup Press. Alaina outdid herself on this project with gorgeous and historically inspired paper goods.
All vendors are listed below and here are some of my favorite photos from Henry Photography
Concept + Styling @auburnandivorycreative
Photography @Henryphotographs
Floral Centerpieces and Bouquet @stateandarrow
Floral Installations @oldslatefarm
Paper Goods-Design + Letterpress @cheeruppress
Silks and Velvets @thelesserbear
Cake @wendy_kromer_confections
Gown Designer @carolinaherrera
Bridal Shop @lajeunemariee
Hair @CallaAudrele
Suit- @pursuityourself
Makeup @angiewarrenartistry
Ring @susiesaltzman
Shoes @trdmrk
Jewelry@anthropologie
Models: @foundmodels @yesandso @justin_thompson