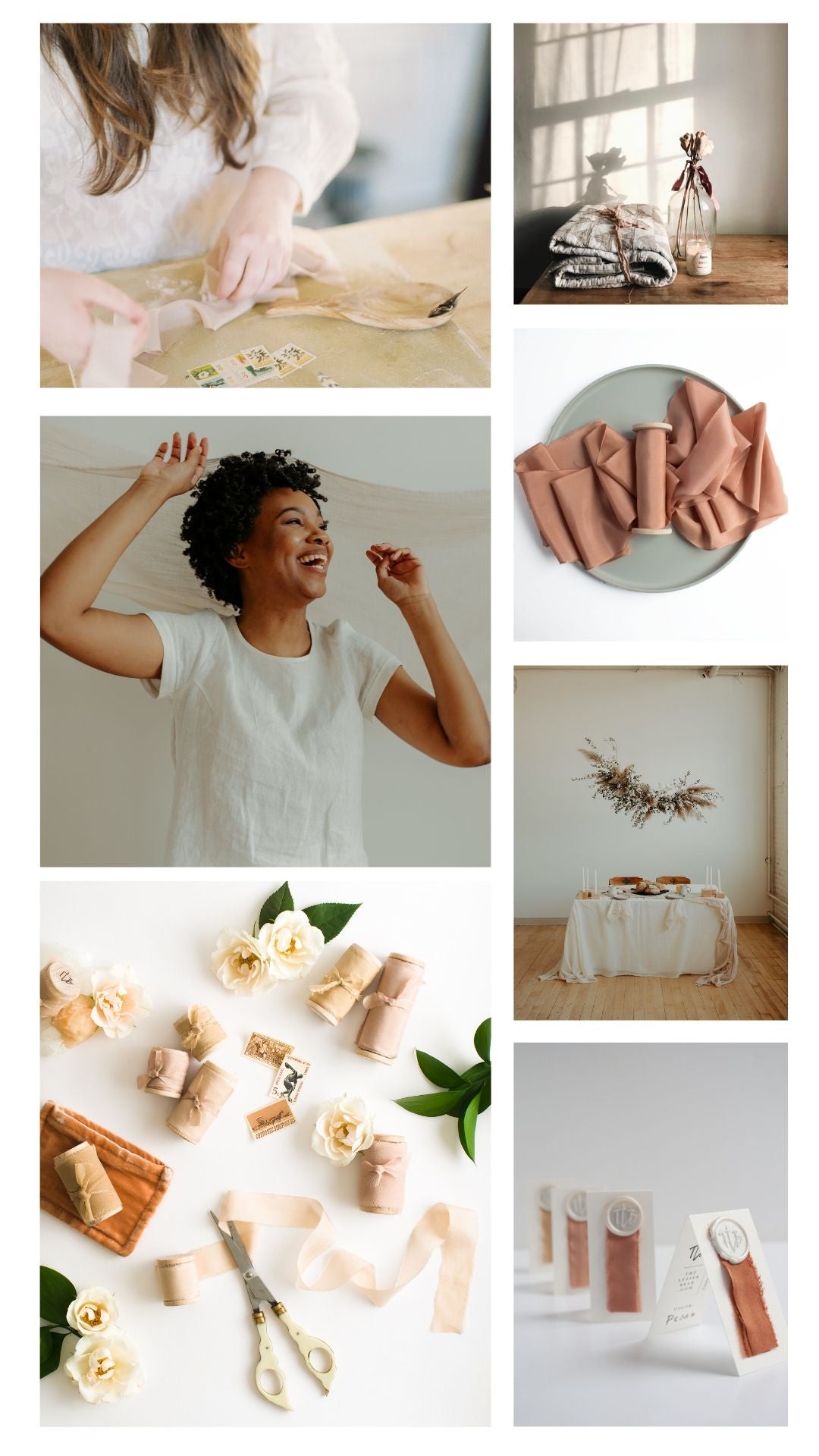 Last Week on Instagram: Warm whites and neutrals in weddings and interiors
This week I discuss warm whites and neutrals in weddings and interior designs as well as the fact that I am taking a limited number of quilt commissions.
Warm Whites and Neutrals
This last week I focused on warm whites and warn neutrals in my Instagram posts. I was inspired the the recent OVER BREAD AND COFFEE | CLEVELAND shoot by Adrienne Gerber, which was full of soft white fabrics and white dried florals, and of course the warm browns of freshly baked bread. Here is what Adrienne has to say about the shoot:
There is something sacred about sitting with a warm cup of coffee in your hands…aaand when it's coupled with fresh bread: friggin' MAGIC. Even the process of baking the bread and pouring the coffee demand you to exhale. Watching the cream dissolve into the coffee can bring me to tears. Is that crazy? It's just so perfect and beautiful and meaningful somehow. I rarely drink coffee or eat alone. Like almost never. And that says something. Food gathers people together in such a fantastic way and I wanted to celebrate that with this shoot. We found a beautiful studio (Suite 226) in Cleveland and gathered all kinds of rad humans together to make it happen. The Heritage Bread Co. baked an unbelievable amount of bread, Rachel Forrer worked wonders with dried/foraged foliage, Heartwood Coffee Roasters gave us THE best coffee, The Lesser Bear provided linens to DIE FOR, A Rose Pottery's dish wear could not have been better suited, Pyne and Smith's linen dresses were the ideal aesthetic, Haley Ressler has make-up skillzzzz for daayyyzzzz, and the styling magician Amanda Urschitz made it all come together PERFECTLY. And, of course, our MODELS: Andre Alamina, Fatima Bah, Shannon Moore, and Bradly Day. GAH!! SUCH AN AMAZING TEAM!!!
Pink and Neutrals in Silk Ribbon
This next image is of a few of the neutrals in my core collection of colors and includes Dancer, Champagne and Krysanthie.
Don't forget, you can now buy samples of each of these colors if you want to see them in person before purchasing your spools.
Champagne and White Roses Bouquet
I love this bouquet by Root Design Co., which is full of soft white and champagnes, including being tied with champagne silk ribbon. Photographed by Kylie Bricker.
 Fawn Silk Ribbon
Below is our Fawn Silk Ribbon in 4 inch habotai silk. I love the warm brown, almost terra cotta color of this ribbon. It would go really well with fall floral bouquets. I can almost imagine it with a bouquet that included autumn leaves in the place of greenery.
 Engagement Shoots and Flat Lay Props
This next photo was from an engagement shoot a few years ago. I love the warm spring vibe of the whole shoot. Photography by Jenny Haas, Florals by Old Slate Farm and Design/Planning by Auburn and Ivory Creative.
Our ribbon makes a create addition to the styling kits of photographers and are perfect for detail shots of wedding elements. 
Couples, if you are planning your own detail shots and have used our ribbon on your bouquet or wedding invitations, be sure to keep some, or grab an extra spool to give to your photographer for these photos.
 Table Runners 
As mentioned above, I made the table linens; tablecloth, runner and napkins, for the Over Bread and Coffee shoot.
Adrienne asked for a Dancer Harem cloth runner for this shoot, which she used on the table, but which is also shown here as a prop to use with the model.
 Ribbon Samples
Don't forget that you can now order ribbon samples for any of the colors in my core collection.
Below are Pecan, Fawn, Cameo and Krysanthie.
 Naturally Dyed and Hand Stitched Quilts
Last but definitely not least, I announced that I will be taking on a limited number of quilt commissions. As you probably know, The Lesser Bear started as a quilting business, but has evolved into a more wedding based business. 
With all the uncertainly in the world, and the delay or cancellation of weddings, my business has taken a hard hit. As such, I have decided to get back to my roots and make a few quilts. If you have always want one, just send me an email, kate@thelesserbear.com, and we can discuss a special project just for you.
Beautiful photo by Rachel Joy Barehl