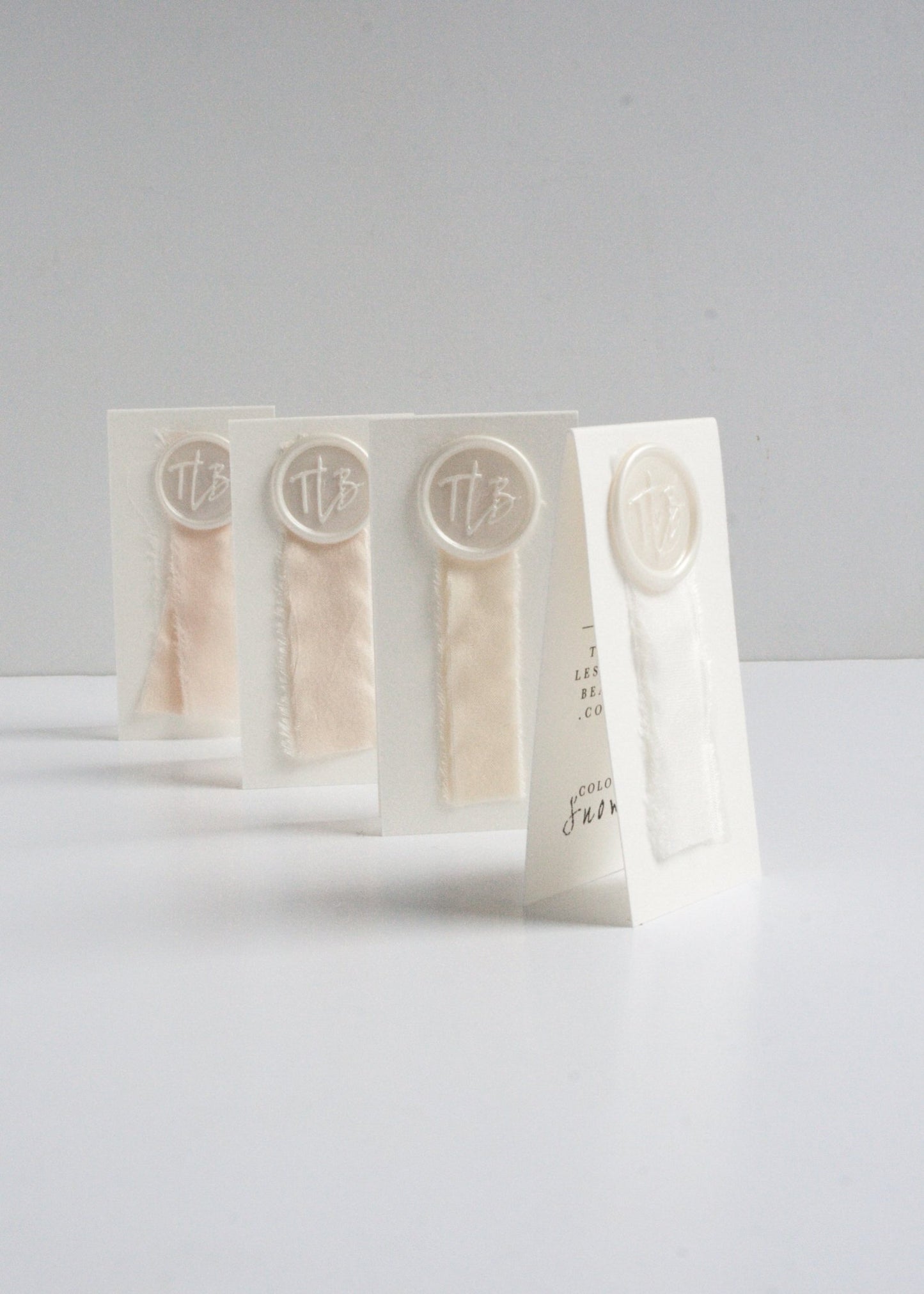 How do I know which color of ribbon to choose for my wedding?
You can now purchase silk ribbon sample cards and booklets via The Lesser Bear website. These ribbon samples and booklets include all three silk types in each of our 24 core colors.
Do you offer Samples?
Yes! Excitingly, I now have silk ribbon samples available for sale via the website. Though I work hard to provide clear and accurate photos, I know that it can be hard to get a good feel for color and type of silk through a photo or description.
Over the years I have had a lot of requests for samples. You asked for it and so here it is! I am excited to share that I now have sample cards and sample booklets available for purchase on the website. I worked for a long time with Alaina from Cheer Up Press to create the perfect way to share samples with you, and I am so pleased with how they turned out!
Which colors are included in the booklets?
The full booklet includes 24 core colors from our silk ribbon collection. While I do have other colors for sale as well, these core colors are available year round. As you know, I naturally dye all of my ribbons by hand, and as such some of my colors are only available seasonally, but these core colors, included in the booklet, can be made all year round.
I created this core color collection to give you a wide variety of colors from whites and black to pinks, blues and purples, etc. You should be able to find a color that works perfectly for your invitation, bouquet or other wedding details.
The sample booklets are perfect for wedding vendors, to plan your next project or share with your clients. Each color card includes a sample of that color in each of the three silks available: crepe de chine, habotai and silk gauze.
Can I buy one sample?
Yes! You can buy single samples of any of the core colors in the collection. These small cards include all three types of silk in your chosen color. For engaged couples, they are the perfect size for taking with you to vendor meetings, dress or suit fittings, etc., and will help you in making color choices.
Are the samples exact color matches?
No. While I make every effort at consistency, all my ribbons are dyed by hand in my studio using plant materials. Season, plant sources and many other factors can effect the color outcome, and colors may vary by batch. Samples should be used as a color guidance tool and not as an exact color match to spools of ribbon.
Why did you include all three silk types?
I include all three types of silk on each card because colors present differently on each type of silk. One type of silk may show the color darker than the other. Aside from the difference in colors, I include all three types of silk so that you can feel the differences. I get a lot of requests to explain the difference between the silks, and I felt that the best way to understand the difference between them is to feel them for yourself.
Incase you too were wondering the differences, this is how I explain them. Crepe de Chine silk is the thicker of the silks and has a slight suede texture to it. Habotai silk is slightly thinner and has a subtle sheen. Lastly, silk gauze is the thinnest of the silks, and it is light, airy and slightly translucent.
OK, I want a sample, where can I get it?
Sample card are available here and full sample booklets can be found here.
I am so excited about these samples and I hope that you love them too. I also hope that they are a good tool for you in the planning of your wedding or event.
As always, please do not hesitate to get in touch if you have any questions.