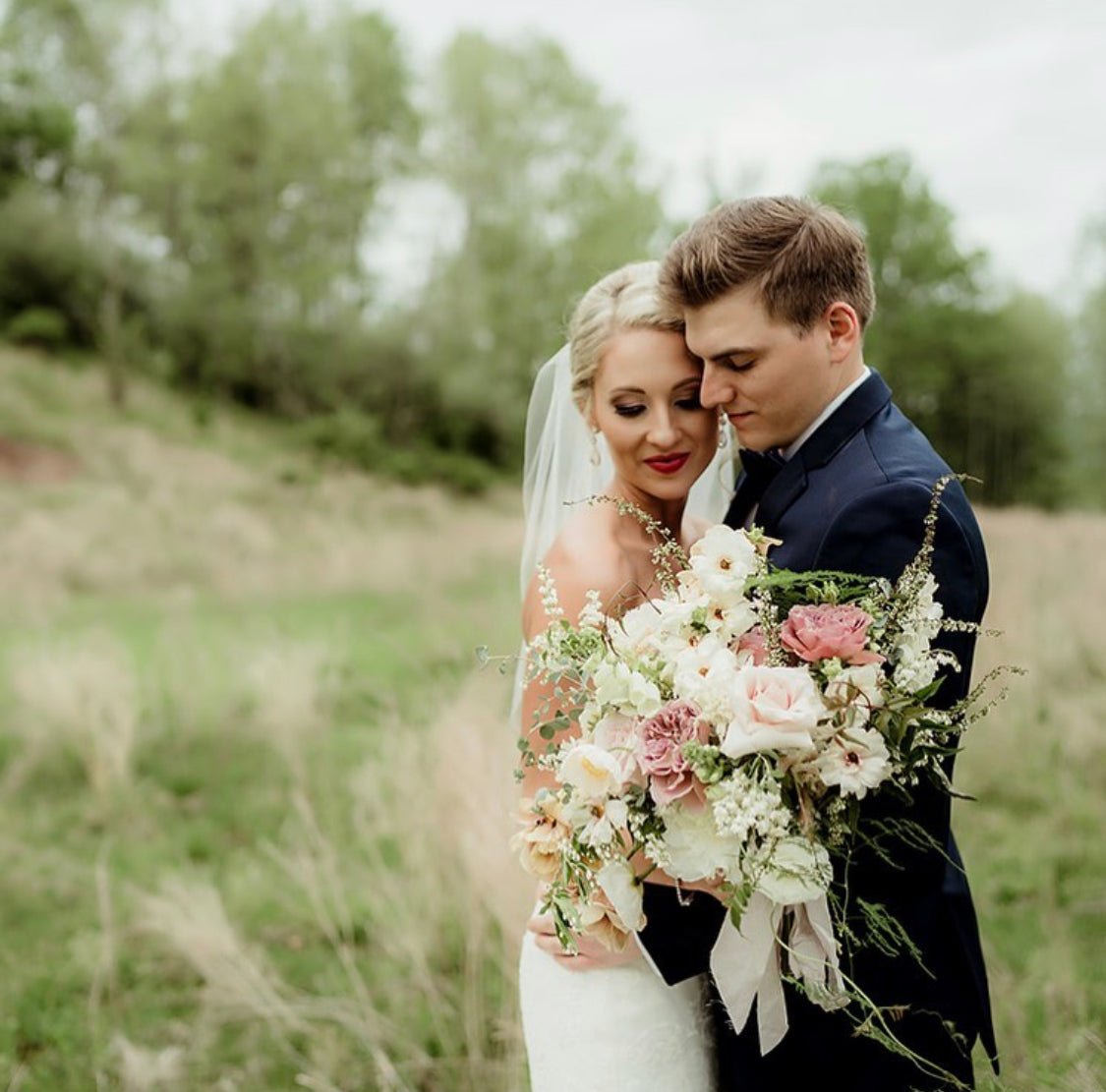 This week in: The Lesser Bear on Instagram
One of my favorite parts of running this business, other than the actual creating, is seeing how my work is used. I love to look back on the last week worths of Instagram posts that I am tagged in. So I thought that I would share this last week with you here.
Just take a look at this delphinium explosion! Wow, wow, wow is all I think every time I see it. This photo is by Rachel Beth at the [re]Treat Yo Self workshop. The amazing florals were done by Bear Roots Floral and the remind me of blue floral fireworks. Kirstin consistently amazes me with her bold use of colors and willingness to create surprising textures and compositions in both her bouquets and floral installations. She often uses my more exciting colors, or ribbons with interesting patterning to go with her work. So, where Kirstin asked for ribbon for this shoot, I jumped at the chance to give her extra wide blue ribbons to match the drama of this tulle dress.
I am doubly lucky to be a part of this shoot, as to our surprise, it was also a proposal! So romantic! I bet we all wish we looked this amazing at the time of our proposals! I will post more photos from this shoot soon.
Speaking of drama: I loved this photo from a real wedding, by City Seeking Studio (please excuse the quality of this image, I took a screen shot from IG, please go see the real thing). I love the dark color scheme for florals and the grooms suit, which pairs perfectly with the brides dark hair. Florals are by Old Slate Farm, with silk ribbons by TLB. Of course I love the stone wall and slate roof of Quarry Chapel as well, the site of the Pre-Raphaelite Styled Wedding Shoot that I posted about earlier.
Another venue that I can't get enough of is The Monastery Event Center. It just has all the old world charm that you would expect from a church wedding in Italy or somewhere equally romantic. I have posted about this wedding before when I wrote about using The Lesser Bear fabrics for wedding backdrops and decor. For this wedding Auburn and Ivory asked my to make naturally dyed velvet pedestal covers for the ceremony. I am so happy with how they turned out.
Photo by Megan Noll Photography Florals by Megan Brown.
Next, I want to wish Susie and Darren a Happy 1st Anniversary! Susie of Susie Marie Photography posted this photo from her own beautiful wedding. I love the clean and joyful style of this wedding with all its early summer greenery by Madison House Designs, with pops of white and our blue silk ribbon. Styling/Planning by Auburn and Ivory Creative, photo by Hope Taylor Photography. Additional Vendors: Sadie Baby Sweets, Sarah Mohre, Erica Eigensee, The Bridal Bar, NOAH's Event Venues, Daalarna Couture, The SuiseeShop Bakery, B.Loved Bridal, Stitched_Cinema.
Next, Cheer Up Press posted this preview of a wedding invitation that she has been working on. She used paper from Porridge Papers, wax seals by Artisaire and habotai silk ribbon in 1/2 inch for a wrap, by TLB. But, check out that envelope liner! I can't wait to see more photos of this invitation suite and all of its amazing details!
I love seeing those real moments! This photo from Folchie Creative, is one of those special ones, with bride Casey and her Mom sharing a quiet moment. Natalie took this photo while second shooting for Emily Mollineaux Photography You have to love this pops of coral balanced by cool greens in this bouquet by Old Slate Farm, with silk ribbon by TLB.
Last by certainly not least is this beautiful couple captured by Ashly Collins. Passiflora Studio's  bouquet of soft tones and tendrils of flowers looks as if it was a small slice of a secret and magical garden.