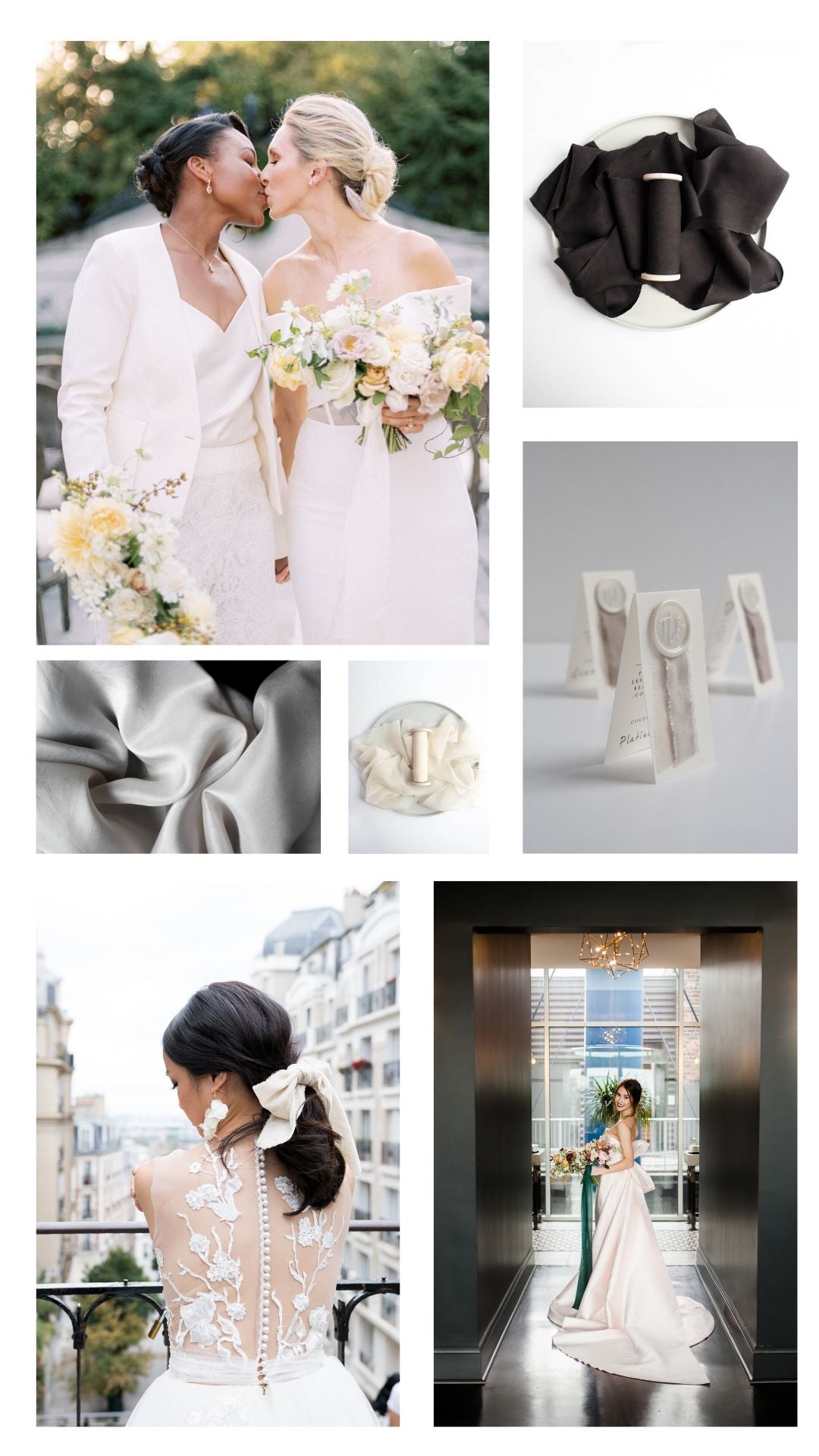 Last Week on Instagram: Black, White and Silk Ribbon
A look at the last week on Instagram, focusing on Black and White images and black and white weddings, including black, white and silver or grey silk ribbons, and velvet bows. Some of my favorite images are of white ribbons tied on wedding invitations, on bouquets and much more.
This week I focused on black, white and grey/silver images.
Naturally Dyed Silk Ribbon
In my Core Color Collection, you will find a large selection of whites, greys, silvers and blacks. All of these silk ribbons are naturally dyed by me in my small studio and are perfect for all sorts of wedding projects from wrapping an invitation to wrapping a bouquet, from tying up a vow book to wrapping a wedding present, from creating a seating chart, to decorating the couples head table chairs and so much more.
You may not know it, but black is a difficult color to achieve using natural dyes, but I have been able to create a deep dark black in my Ebony silk ribbon that is perfect for a black and white wedding or for wrapping a boutonniere. 
Creating this deep dark black takes a combination of multiple plants, mostly foraged in my local area and days of dyeing and over dyeing until it is the perfect color and depth for your wedding. 
Mrs. and Mrs.
Oh, I am so in love with this image from a styled shoot at Franklin Park Conservatory. What could be better than two beautiful brides with gorgeous wedding outfits and amazing bouquets?! 
Well, this photo is also pretty perfect, with the heart created between the chins and shoulders of the brides.
Hair Britt Bru Hairstylist
Black and White Wedding
As I mentioned above, this black silk ribbon is naturally dyed by me and is perfect for a black and white wedding. It is dramatic and fun at the same time.  
Silk Ribbon Samples
Parisian wedding and Velvet Ribbons in Her Hair
Everything is dreamy in this Parisian styled shoot at Sacre Coeur. Aside from the amazing view (making me want a French destination wedding of my own), just check out the embroidery on the back of this wedding dress and the miles of lovely little buttons.
Letterpress Wedding Invitations
Silver Silk Ribbon
I just think that there is nothing more beautiful than yards of silk and the soft colors made by plants in the natural dyeing process.
Columbus Weddings 
I have shared this styled shoot at Juniper Rooftop before, but I simply love this dramatic image, it feels like it is straight out of a Hollywood movie.
I love the fresh and simple bridal look with swept back hair and the big bow on the back of this bridal gown in just a hint of blush.
If course, I also love the deep green ribbon.
Florals by State and Arrow 
Make Up Angie Warren Artistry
White Silk Ribbon
I love to layer silk gauze ribbons. They are great layer together to pick up multiple colors in the bouquet, or layered with habotai or crepe de chine ribbon, to add volume to the bouquet, without too much density. It is also a great way to create three colors with two silk ribbons as the silk gauze is translucent and combines with any color that it is layered over.