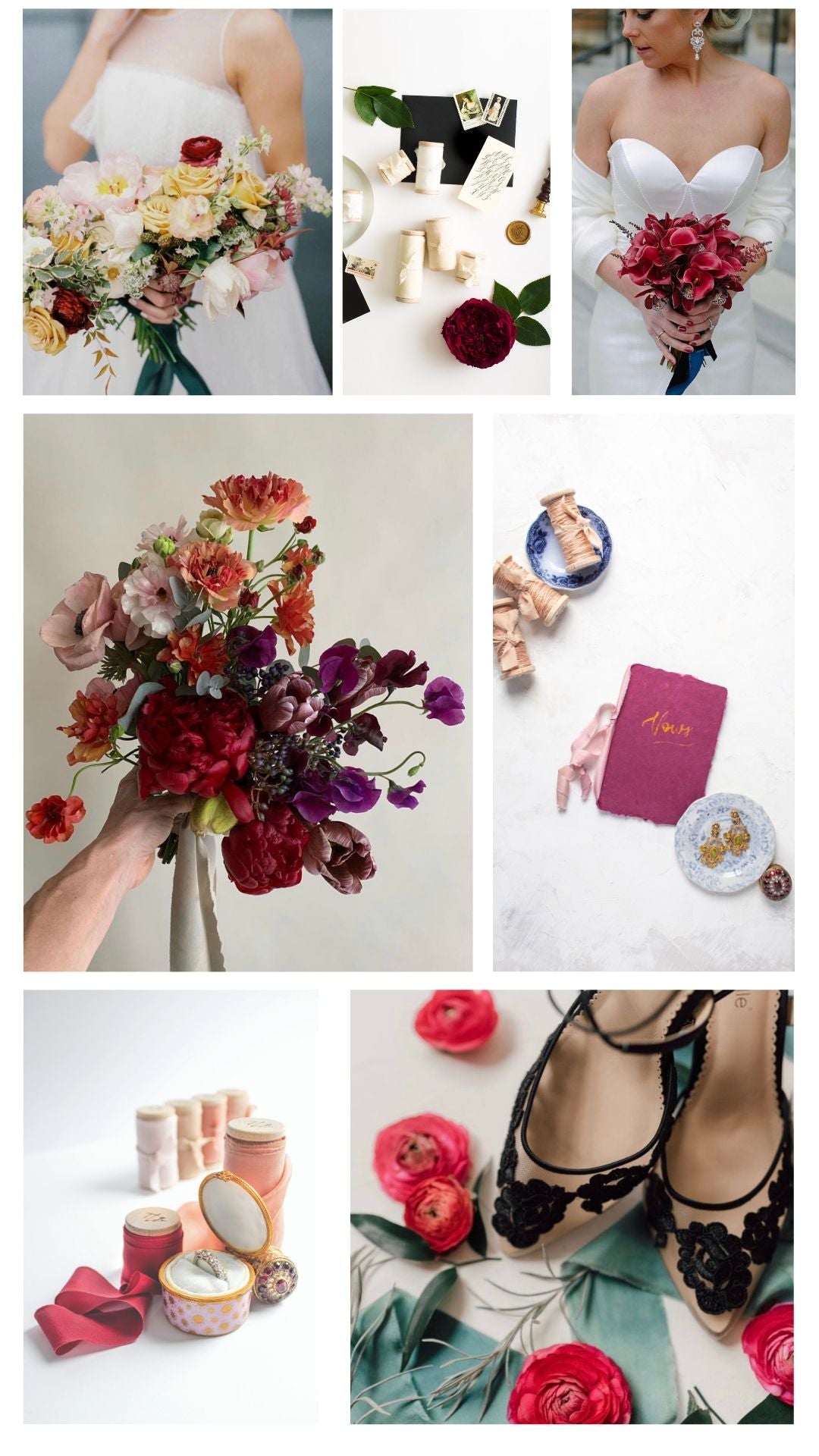 Last week on IG: week of Feb 14th
A roundup of spring florals, bridal looks, detail shots of your special touches in your wedding and more. Silk Ribbon, Wedding Florals, Wedding Planning, Wedding Invitations and Dresses.
This week in silk ribbon on Instagram
This is week two of diving a little deeper into the images that I have shared on Instagram over the past week.
It was Valentine's Week so you will notice more of the color theme of pinks and reds. I am more than a little obsessed with that color combination right now and I think that it would make a great signature color combination for weddings, and not just Valentine's day.
Bouquets and Ribbons
This week started out with an editorial shoot by
Chad DiBlasio
from a few years back in Phoenix, Arizona. I love the bouquet of big fluffy blooms by
Form Floral
and how the blush and light gray ribbons accent the florals without overpowering them.
Ribbons and Pearl, and other vintage details
You can't go wrong with ribbons and pearl in the wedding world. I am still so in love with these flat lay details photos by
Maria Sirian
o styled by
Auburn and Ivory Creative
. I particularly love this one as it shows how ribbon can be incorporated into the detail shots from your wedding. You can include it with wedding day jewelry, stamps from your invitation suite, blooms from your bouquet and possibly even special photos or images that are near and dear to your heart.
Old Master Painting Style Bouquets
This gorgeous bouquet is by
Passiflora Studio
and is so amazing to look at. The textures are colors all play off of each other perfectly. I particularly love the purple sweetness, parrot tulips and the big fluffy peonies.
Valentine's Day Silk Ribbon 
Last week was Valentine's Day, so I took some time to play around with my new favorite color combination of reds and pinks.
Hollywood Glamour 
I love this photo by Victoria Isabel Photography with blooms by
Madison House Designs.
 Paired with the green ribbon and sheer shoes with black embroidery, there is just something very Old Hollywood about this look. All romance and drama and beautiful wardrobes.
Twines
Shown here is blush flax twine, which is part of my new line of
twines
, and hand spun and naturally dyed by me. These twines are perfect for wrapping wedding invitations, tying up little guest gifts and even vow books. 
Luxurious Tablescapes
I had the honor of making custom linen napkins and silk runner for this intimate wedding by
MMJ Events
 - which was held at the breathtaking
Malibu Rocky Oaks Estate and Vineyard
, which would be an amazing choice for a California destination wedding. 
Hepburn Glamor 
This shoot at
Juniper Rooftop
 which was photographed by Jenny Haas, Planned and Designed by Auburn and Ivory Creative with florals by State and Arrow, has all the glamor of Breakfast at Tiffany's.
I love the light blush dress, paired with muted yet colorful blooms and deep green silk ribbon. I also love the super feminine fluncy top to the bridal gown.
Classic Bridal Look
There is so much to love about this look, from the classic and classy structured bodice on the gown to the dramatic merlot lillies and orchids, navy blue velvet ribbon and those red nails!
I am not often a structured look person, but I do love this one. 
Wedding Detail Shots
Lastly, I discussed making sure that your photographer has ribbon that is complimentary to your wedding colors. Ribbon is perfect for all sorts of details shots, like your wedding invitation, wedding rings and even shoes and other small but important details. 
Many photographers have multiple spools or snippets of ribbon in their own styling kits, but if your does not, or doesn't have the right color, you can pick on out yourself here on the website.