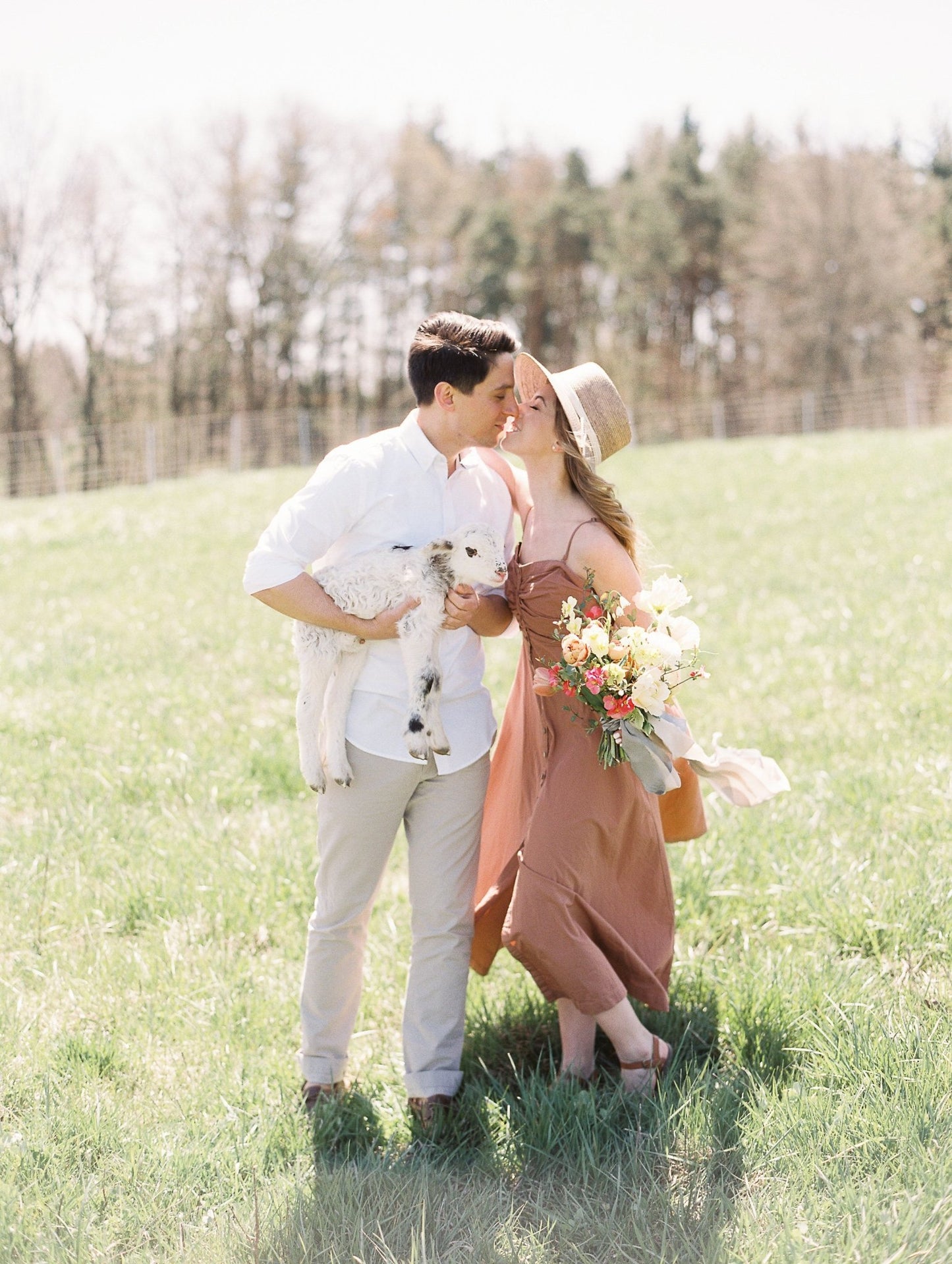 Late Winter/Early Spring Flowers
Inspiration for wedding florals for late winter or early spring weddings and engagements, including color palettes, posing for photography, composition of bouquets and ribbon pairing.
Late Winter and Early Spring Floral Inspiration
Below are some of my favorite bouquet photos from past shoots that took place in the late winter and early spring.
Audrey Hepburn Vibes
The hint of blush in the bridal gown with the large dramatic bow tipped vertically is classic and modern at the same time. 
The florals by
State and Arrow 
 are a perfect mix of late winter blooms, roses and green and red foliage mixed with spring flowers like tulips.
Of course one of my favorite details is the wide dark green silk ribbon that was paired with the bouquet, as I think it makes a great contrast to the blush dress and the lighter yellow and white roses and matches well with the pops of red flowers.
Engagement Photos
The photos below are from an engagement shoot photographed by
Jenny Haas
 Planned and Designed by Auburn and Ivory Creative with Florals and Venue by
Old Slate Farm
.
Could this shoot get any sweeter?! I am seriously still dying over the sweet little lamb in the photo. What could be better than a beautiful newly engaged couple in a sunny field with gorgeous spring flowers and a lamb?!
If you got engaged over Valentine's Day, I would definitely find your photographer asap and book a spring time slot to have your photos taken at a flower farm, especially if it has lambs!
How to hold your flowers
If you are going to go to the trouble of booking an engagement photo session, you are probably going to want to think about multiple locations, outfits or multiple outfits, and ways to maximize your bouquet, if you are getting one.
I love how Auburn and Ivory accessorized this spring bouquet by putting it in a lovely basket for some of the shots. It creates a new sweet look for these photos.
Spring Weddings
And if you are having a spring wedding, you can't go wrong with a palette like this of soft yellows, peaches and whites, in this arrangement by Old Slate Farm. 
It looks perfect paired with an old farmhouse style table and a gauzy silk runner, by The Lesser Bear.
Spring Bouquets
Below are a few of my favorite spring bouquets from editorial shoots last fall. The overall theme tends to be big softly toned blooms with light shades of greenery and long tails of silk ribbon that pick up the colors in the bouquets.
I particularly love this bouquet by Old Slate Farm that is paired with super long 4 inch wide silk ribbon. If you think that these tails are too long to be practical, but you LOVE them like I do, consider asking your photographer to do a couple of shots with the long tails, prior to your ceremony, when everything is looking pristine, and then have your florist either trim the tails slightly longer or tie them up to create a fuller bow for the ceremony.
This is another bouquet by Old Slate Farm, also photographed by Ashley D Photography. 
This bouquet has super large blooms with very muted tones and fresh spring green greenery, paired with
Cream Silk Ribbon
. I love the very large blooms and this pose. If you are going to go large for your wedding bouquet, consider a pose like this, or talking to your photographer about posing you like this for one of the photos. There is no better way to show that your adored your wedding flowers than by giving them a big hug.
Where to have your wedding photos taken
This beautiful bouquet is by
Passiflora Studios
, photographed by Jenny Haas and Designed and Planned by Auburn and Ivory.
Again, if you are having a spring wedding, be sure to take advantage of all the amazing blooms in your local area. Posing for photographs under a blooming tree, is a beautiful way to capture the season of your wedding, as is posing in a flower field, like the engagement session above.
This bouquet has a lot of soft greenery and multiple tones of blue silk ribbon to float around on the spring breeze.
If you have a lamb, always include the lamb
I mean seriously, could there be anything cuter than a new lamb and happier than the smile on your face when you hold one with your new spouse?
This photo was taken by
Tiernae Salley
 with Florals and Planning by State and Arrow at Warwick Farm.