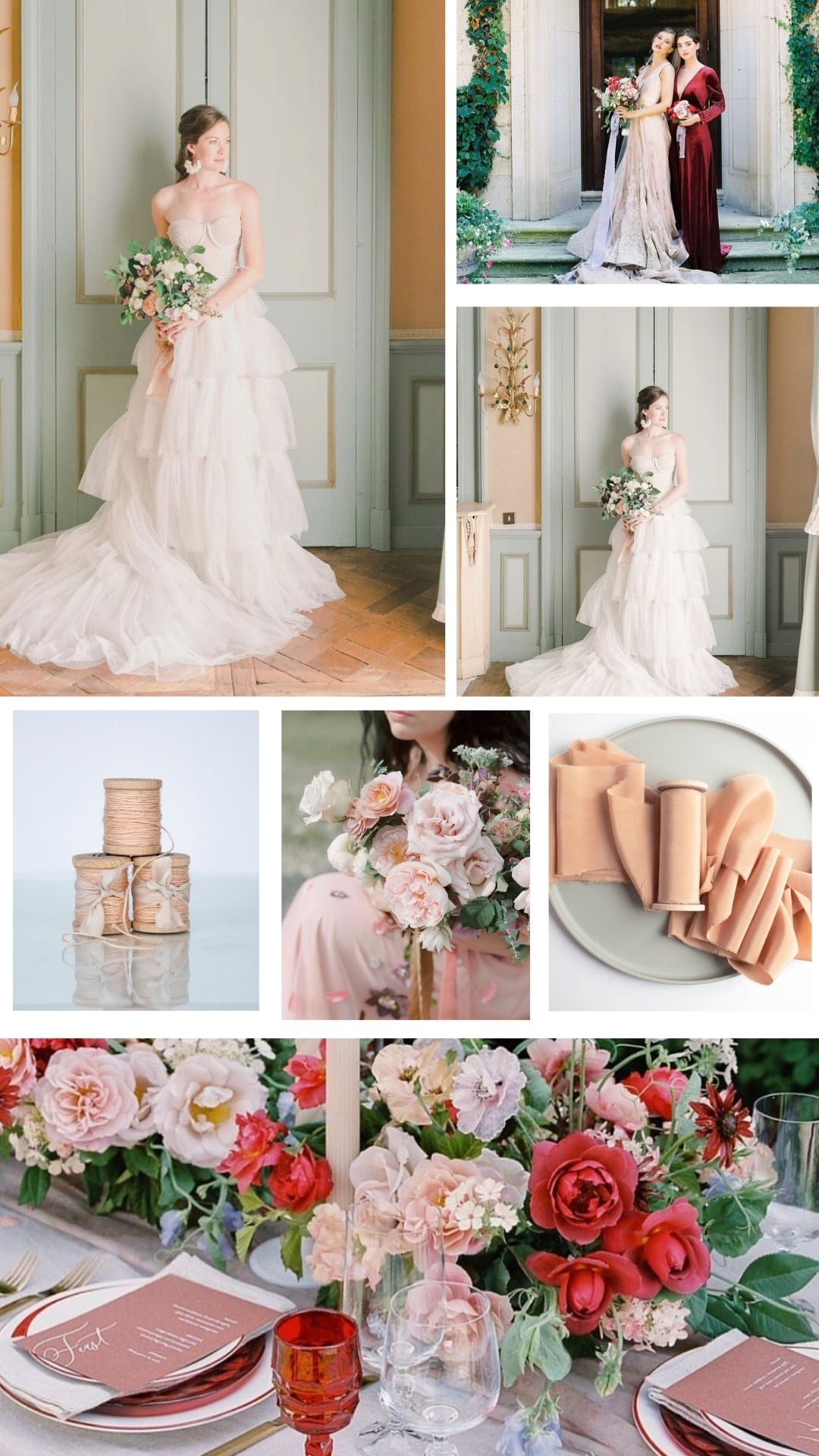 Last Week(ish) on IG: Feb 2nd - 12th
A summary of the wedding styled shoots, products and silk ribbon that I have shared over the last week on Instagram. Lots of info about designing weddings, wedding dresses, florals, ribbon and other wedding details.
This is the first in a new series of blog posts, sharing with you what I have been posting on Instagram over the last week. Why would I do this? Well, I want to make sure that you don't miss any of the beautiful images that I have been sharing on Instagram, just because you found me here on the website. Also, I can share more detail about these images here on the blog than I can on Instagram. I hope that you find inspiration in these photo and the they might help you plan your wedding.
What is in style at the moment on Instagram?
Spring Color Palettes 
Last week we were looking at this amazing shoot designed by Amanda of The Bridal Theory
I will do a whole post dedicated to this shoot later, because it is definitely worth it! It is the perfect inspiration for a destination wedding in a French Chateau and included a gorgeous soft pastel color palette. 
I would totally have gotten married in an Irish Castle, if that had been an option for us when we were planning our wedding!
Photography by Mary Kate Steele, Florals and Creative Design by Amanda Writesman of The Bridal Theory, DressTop Bridal Paris and Designed by Blammo Biamo, Model Morgan Newsome Photography, Venue Chateau de Bonneval Accessories Les Couronnes de Victoire and Mood and Muse Boutique 
Twines
I shared info about this blush silk/wool twine, which I spun by hand, and naturally dyed. It is perfect for wrapping around wedding invitations, menus, table numbers etc., basically any wedding project that you might need to wrap.
Velvet Table Runners
Shown here is one of my favorites, Desert Rose Pink/Blush Velvet Table Runner. I love including velvet on a wedding table, or just the head table. There is no better way to add a touch of lush opulence to your tablescape and it is a great way to begin to layer texture on your table, or to highlight the head table.
Some of my favorite weddings have had one of my velvet runners draping down the edges of a sweetheart table or even a dessert table.
Pink Silk Ribbon
Blossom Silk Habotai Ribbon is definitely a popular pink ribbon. Blossom is a dusty pink ribbon that goes well with lots of flower choices. It adds a soft pink, but does not overpower the florals. I also love it in habotai 4 inch width, as it has a slight sheen and drapes beautifully off of a bouquet.
Romantic Coastal Charleston Wedding Inspiration
This super romantic wedding editorial took place at River Oaks Charleston. I love that weathered dock that extends out into the water and reeds. Also, the wedding dress by Emily Kotarski has amazing puffed cap sleeves and a dramatic plunge.
I also adore the asymmetrical bouquet by Passiflora Studios with soft whites and pinks and tiny pops of darker greenery, all tied up with a soft pink Lesser Bear ribbon. Photo by Jenny Haas.
Pink Bridesmaid Dresses
This editorial shoot has all the soft pink romance that you could dream of. Big soft fluffy peonies and roses in a lush bouquet by Passiflora Studios tied with Krysanthie and Lily Pink Silk Ribbons. 
Design by Auburn and Ivory Creative Photography by Jenny Haas and amazing pink dress with floral appliqué by Marchesa Fashion.
Pops of Pink and Red 
I am in LOVE with this look. This head table setting plays soft pinks with pops of red in the florals and in the place settings and paper goods. I also love the little surprise blues in the garden like table installation, and the combination of straight and twisted candle sticks.
For this shoot, I custom dyed a silk gauze runner directly with flower petals to create a soft texture that tied in all of the colors on the table.
Planning and Styling by Auburn and Ivory Creative, Phography Jenny Haas, Paper Goods Cheer Up Press and Florals Old Slate Farm at Green Crest Manor in Battle Creek, Michigan, a perfect location of a destination wedding.
Carol Hannah Bridal Gown and Velvet Bridesmaid Gown
I can't get enough of this shoot at Green Crest Manor, so I shared this second photo. How amazing is that Carol Hannah bridal gown?! It is perfect under the ivy covered arched doorway with the plunge neck deep wine colored velvet bridesmaid dress. 
The bride's bouquet is loose and has that Secret Garden feel and is tied with loooong tails of Orchid Purple Silk Ribbon, while the bridesmaid bouquet is smaller and more structured with shorter tails of the same purple silk ribbon. I love this way of differentiating the bride's bouquet from her maids', as it ties them together but doesn't not detract attention from the bride.
I hope you enjoyed this roundup of the different images and wedding styles that have been on my mind over the last week and I hope to share this type of info more regularly in the future.