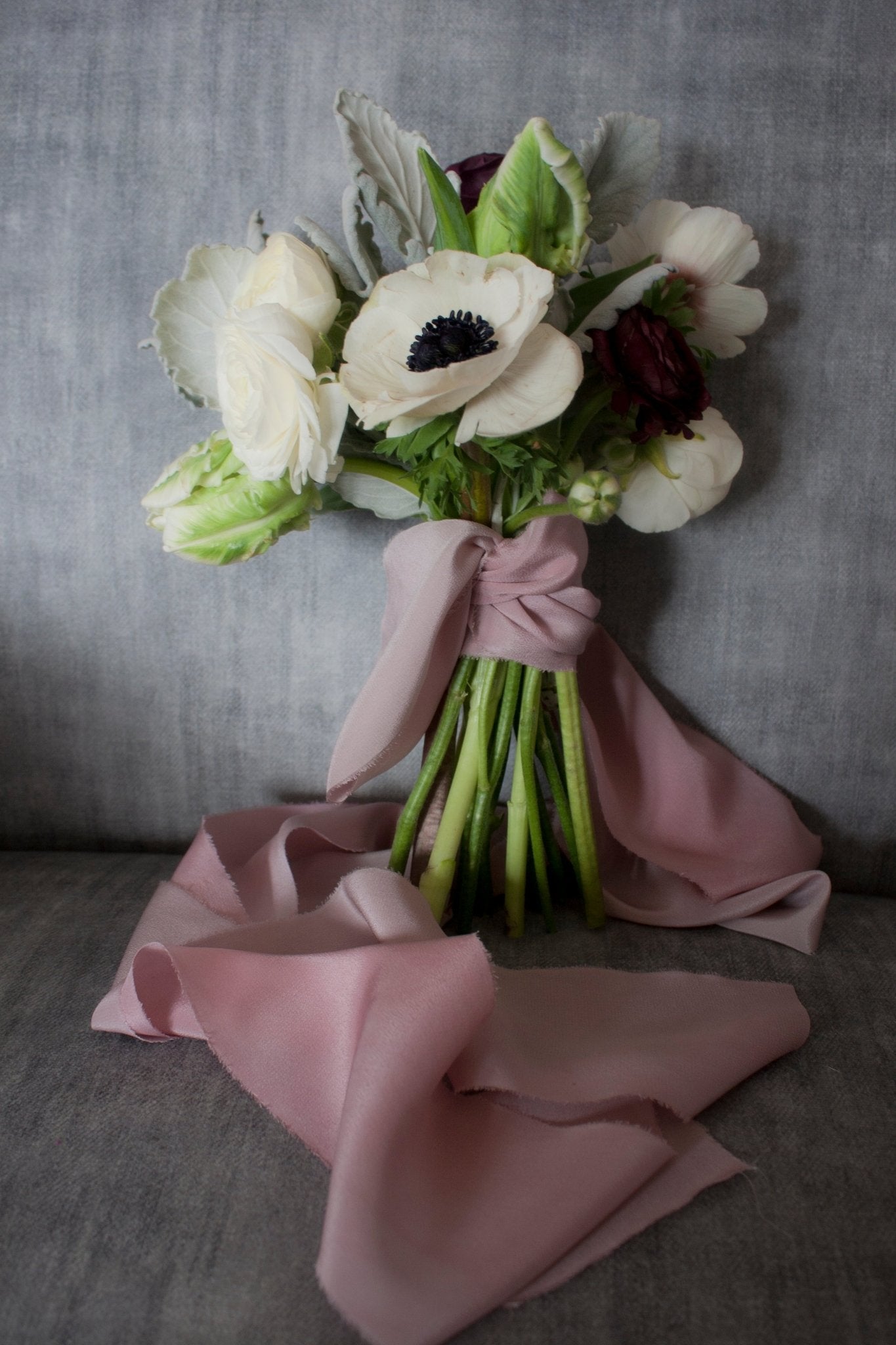 Valentine's Day Flowers and Ribbon
Pink and red inspiration for Valentine's Day weddings or Elopements, and ideas for silk ribbon on Valentine's Day bouquets.
Valentine's Day Ideas
Valentine's Day is quickly approaching and so I though that I would share a few pink and red inspiration photos, for a romantic Valentine's Day wedding, elopement, or just a romantic gift.
Boho Elopement 
The first is from a few years ago. It was a romantic boho wedding editorial that turned into an actual elopement.
These dramatic and moody photos are by the talented Addison Jones. Loose romantic florals by Bear Root Floral. What could be more romantic that this tall grove of pines, deep moss and ferns and a simple floaty dress.
Well, maybe add some tents for a little extra flair. These tents were provided by The Campfire Experience and included a lounge tent decorated with greenery and  pennant bunting.
I also love that Addison took the time to take these intimate photos of the couple in the light of the barn.
For this wedding I made custom mottled red and burgundy silk ribbon, which paired well with the colors in the bride's bouquet.
Sweet Pink Valentine's Day Floral Inspiration
I also loved this shoot from a few years ago that featured soft pinks, lots of candles and this beautiful beaded bridal gown. I particularly love the combination of greenery, deep burgundy florals and hints of pink in the silk ribbon and just a few of the blooms. Florals by Rose Bredl. Photos by Jennifer Schaaf and Styling by Alchemy Styled for Bohindi.
Bold Valentine's Floral Bouquet
This is only of my favorite looks for a Valentine's Day Wedding. Simple white dress paired with muted greenery, ivory roses and pops of brilliant red with mottled red silk ribbon. This photo was part of the Opalescent Series which is a collaboration between Bear Roots Floral and Grace E Jones.
If you are using bold colors, I love them in combination with a more muted palette, so that they are really highlighted rather than lost in other bold colors.
Multi tonal Pink Valentine's Day Florals
If you are a more pink the merrier type, this look is definitely a go to for you Valentine's Day wedding or elopement. All pink, all the time. This shoot included pink floral headband, pink dress and backdrop and multi tonal pink florals with pink silk ribbon. Photo by Adrienne Gerber and Florals by Rachel Forrer.
A Simple Valentine's Day Floral Bouquet
Not getting married this Valentine's Day, but you still want to make a romantic gesture for your loved one? You can't go wrong with a simple hand tied bouquet, like this one with white parrot tulips, lambs ear and a little pop of burgundy in the ranunculus. Then tie it all with a soft pink silk ribbon.